A collection of 370 ancient lamps that belonged to the priest, Nguyen Huu Triet are being displayed at the Ho Chi Minh City Fine Arts Museum.  The Museum is located at 97A Pho Duc Chinh and will be on display from now until 22 February 2008.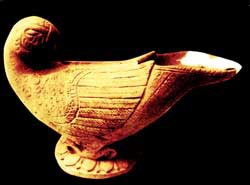 An oil lamp of Ly Dnasty
These old lamps are a collection from various countries including Viet Nam, China, Japan, India, Singapore, France, Germany, England, the US, Isreal. They are made of terra-cotta, pottery, glass, metal (copper) and their shapes are very different to each other.
Of which there is a group of 186 Vietnamese lamps which were sophisticatedly made of pottery and metal in the dynasties of Ly, Tran, Mac, Le, and Nguyen. The most ancient object is a bronze lamp dating back to the Dong Son period.
Besides the interior lights, there are hurricane-lamps installed on ships, trains, cars, coaches, and bicycles. They are lighted with liquid fuel including peanut oil, kerosene, animal fat, or gasoline.
Priest Nguyen Huu Triet, who leads Tan Sa Chau parish in Tan Binh District in HCMC has had 15-year passion for collecting ancient lamps. He possesses a collection of more than 600 lamps and all are originals.