An 84-year-old collector has donated more than 3,000 valuable antiques to the National Museum of History in Ho Chi Minh City.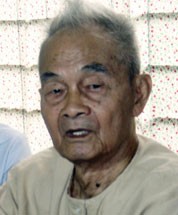 Huynh Van Nghi
Huynh Van Nghi had been collecting antiques for several decades and had lovingly preserved them for posterity, refusing to sell them even to foreigners who were willing to pay large sums of money for them.
Nghi passed out of Petrus Ky School at the age of 20. He then went on to study Mathematics in France, obtaining his Master's degree from Sorbonne University. He returned to Vietnam in 1957.
For the next two years he taught at the Petrus Ky School. Later he joined the Budget and Finance General Office under the Ngo Dinh Diem Administration.
Even though he was treated well in his job position and stood to rise up the ranks, he gave it all up to fight for the liberation of the nation in 1968, when he was admitted to the Party Committee.
He then met Duong Quynh Hoa, a well-known female doctor and former Minister of Health under the Provisional Revolutionary Government of the Republic of South Vietnam. He soon married her.
The above collection belonged to Nghi's parents-in-law, Duong Minh Thoi and Ha Thi Ngoc, who were both patriotic intellectuals.
They had jointly been collecting the antiques from 1930-1940 and named it after their respective names 'Duong Ha'. Nghi and his wife then kept adding to the collection during their business trips.
The 'Duong Ha' Collection now comprises of 3,360 exhibits of metal, stone, glass, wood, cloth, elephant tusks, animal bones and terracotta.
Among the collection are 3,000 priceless antiques dating back 2,500 years, with origins in Vietnam, China, Thailand, Cambodia, Japan, Germany, France and Turkey.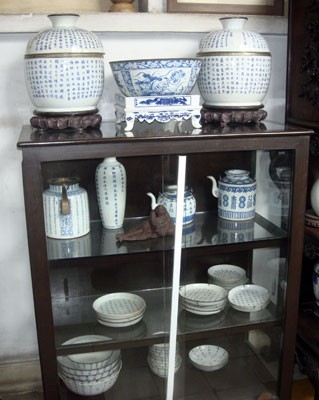 Some antiques from the Duong Ha Collection
The oldest items are stone-made axes from the South of Vietnam. Objects made of wood and tusks were made by Vietnamese artisans from late 19th century to early 20th century.
"I just followed the wishes of my parents-in-law to give the 'Duong Ha Collection' to the museum, and hope that it will be well preserved for posterity, for the community and society," he said.
Tran Thi Thuy Phuong, director of the National Museum of History, said that the Duong Ha Collection was the largest private collection that the museum has ever received. The museum will try its best to preserve this very valuable collection.
The National Museum of History will display the collection later in December.