Coloring books for adult once become best-seller at the 5th Vietnam International Book Fair and Exhibition 2015 which was opened at Thong Nhat Park in Hanoi yesterday.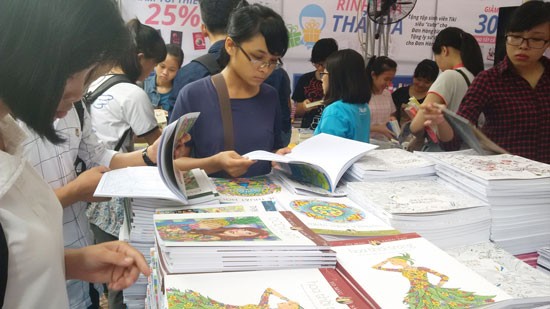 More young people are attracted at section where colorign books are displayed (Photo: SGGP)
Appearing in the Southeast Asian nation since 2014, coloring books for adult are one of best-sellers of many publishing houses which try to market the book much. This can be easily seen at the booth of the Nha Nam Publishing House.
Representative from Nha Nam Publishing House said that though the books just appeared in the market for several months, it brings huge turnover for the publishing house. The books attract young people and middle aged people.
Accordingly the publishing house placed the book in an easy-to-seen place as well as a room for free coloring.

Thai Ha book store also placed these books at an easy-to-see position in its booth and offered promotion package for the book and colored pencils. Young Publishing House released a series of four coloring books including "Cam hung sac mau" (Creative Coloring Inspiration), "Vu tru thu nho" (Creative Coloring Mandalas), "Me man cung muon thu" (Creative Coloring Animal) and "Ky ao voi hoa" (Creative Coloring Flowers) of Valentina Harper. These books have fine lines and sophisticated design for readers' creative inspiration and thinking.
The fair also offered discount from 10 percent to 50 percent even some booths giving 70 percent of discount.
The fair themed "Vietnam in integration process" also displayed many documents, valuable exhibits to show the development process of book with the country's growth as well as introduced achievements which the country gained in 30 years of renovation.
The fair is organized by the Department of Printing and Publishing under the Ministry of Information and Communications includes 200 booths from over 100 domestic and international publishers. It will last until September 14.