The Vietnam Cinema Association announced in a press conference in Hanoi on February 23 that 11 movies are scheduled to compete for the annual national film award.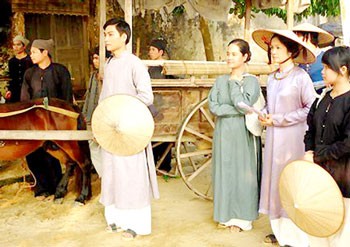 A scene in the film Nhin ra bien ca (Looking to the sea).
The films include Tay Son hao kiet ('Tay Son Dynasty's heroes'), Hoa dao (Peach blossoms), Vu dieu dam me (Dance of Passion), Vuot qua ben Thuong Hai (Across Shanghai), Long thanh cam gia ca (The Fate of a Songstress in Thang Long), Khat vong Thang Long (Thang Long aspiration), Nhin ra bien ca (Looking to the sea), Co Dau Dai Chien (War of Brides), Thien Su 99 (Angle 99), Canh Dong Bat Tan (Floating Lives) and Giao Lo Dinh Menh (Inferno).
The awards categories are: celluloid feature film, TV series, video feature film, celluloid documentary feature, video documentary feature, Science Feature, Animated Feature Film, short film and Commentaries.

The movies will be screened at Fafilm cinema, Tan Son Nhat Cinema and Thang Long A cinema in Ho Chi Minh from March 10-13 and at theVietnam Film Institute, National Cinema Center and the Central Scientific and Documentary Film Studio in Hanoi from March 12 to 14. Entrance is free.

The Canh Dieu Vang (Golden Kite) national film award is a prestigious film award. Any one receiving this award will have a greatly enhanced image in the eyes of colleagues and the general public.

The awards ceremony will be held at Hoa Binh Theater in Ho Chi Minh City  on March 13 and broadcast live on VTV2 and VTV4 channels.