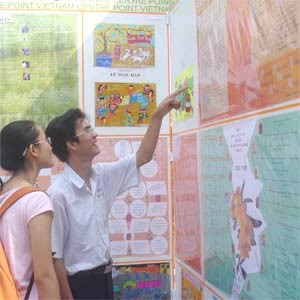 Visitors are watching the big greeting card (Phpto:VH)
Competition entitled "Best wishes in New Year 2006" has been organized under the auspice of Ho Chi Minh City Investment and Trade Promotion Center, High quality enterprises club and Vietnamese Training Center Hop Diem (Center Point).
The event took place in Weekend Bazaar at 23/9 Park from January 13 to 15. A twelve meter square greeting card along with many panels containing meaningful sayings, best wishes was displayed.
Each saying was limited to 20 words, which was considered fervent wishes to relatives and friends in the coming year.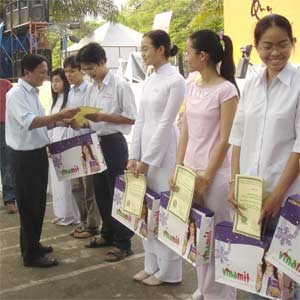 Winners at the prize-giving ceremony(Photo:VH)
English scholarships and some other great prizes were given to writers of dearest and deepest wishes. Also, visitors participated in lucky draw at the bazaar.
Besides, art-lovers had chance to meet famous artists in the exchanges "Artists and publication design".