A concert featuring Italian pianist Andera Centazzo will be held in Hanoi and Ho Chi Minh City to mark the 150th anniversary of the unification of Italy.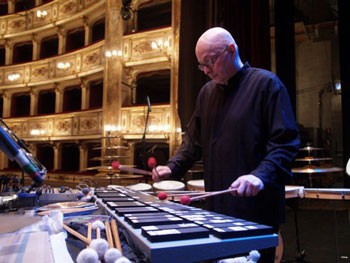 Italian pianist Andera Centazzo.
The performance is a combination of music and images of a historical expedition of 1000 volunteers led by General Giuseppe Garibaldi who started from Northern Italy and fought in Southern Italy for their Country, contributing in a decisive way to the unification of Italy in 1861.
Andrea Centazzo is also a musician and music researcher. He is a pioneer of video art and contemporary percussion.

In the 70's he played with some of the greatest soloists and avant-garde composers such as J. Zorn, S. Bussotti, S. Lacy, Al Curran and J. Cage. Centazzo has received various prestigious music and video awards such as Premio Speciale della Critica Discografica (Italia), Downbeat Poll (USA), Excellence Award of International Video Festival Tokyo (Japan) and the Art Canal Award of Ministry of Culture (France).

He has dedicated all his effort to the multimedia art in which he merges traditional percussion instruments with new digital media and images from videos shot by him, since 1998.

The pianist has held more than 2500 concerts and live performances in Europe, United States and Asia for 40 years, and recorded a great number of music works. He is the author of 470 compositions, eight musicology books and 45 video film and multimedia performances.

The shows will start at 8 p.m. at Ho Chi Minh City Conservatory of Music, 112 Nguyen Du Street in District 1, HCMC on September 13 and at the Labor Theater, 42 Trang Tien Street in Hanoi on September 15.

Ticket prices are VND250,000 VND per person.