A colorful concert was held at the Quan Ngua Sports Complex in Hanoi on December 8 as part of the many activities to mark the 10th National Congress of the Ho Chi Minh Communist Youth Union on December 12.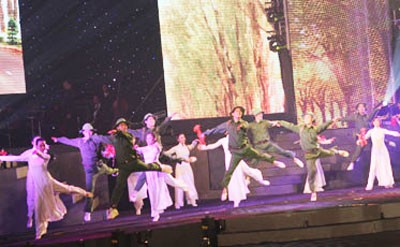 An art performance at the concert on the country's war history (Photo: Tuoi Tre Online)
Thousands of local residents gathered at the Quan Ngua Sports Complex to enjoy the concert titled 'Bay Cao Khat Vong Tuoi Tre Vietnam' (Passion of Vietnam's youth flies high).

The concert is the fifth part of the entertaining series called 'Khat VongTre' (Youth's Passion).

Several senior officials, leaders from the Party Central Committee, and central government, including Ha Thi Khiet, secretary of the Party Central Committee, were present at the event.

The concert featured popular singers of Vietnam such as My Linh, Trong Tan, Tung Duong, My Tam, Cam Ly, Ha An Tuan and Phuong Linh; more than 400 artists from the Vietnam National Symphony Orchestra; the chorus of Hanoi College of Art; and the Vietnam Circus Federation.

The performance was in two parts. The first part was titled 'Proud of our traditions' which drew a very effective picture of the country's history in which many young Vietnamese fought for freedom during the war. The second part titled 'Youth's passion, raise your voice' called for more youth to believe in the development of the country in peacetime.

Besides the art performances, the event also raised funds for the campaigns 'Accompany young seamen to sea' and 'Nguyen Thai Binh Scholarships' supported by Thanh Nien Newspaper.