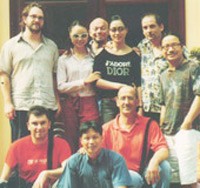 Mezcal Jazz Unit band and Vietnamese Artists. (Source: NLD)
The concert "Looking for the Wind" will take place at the IDEACAF Theater on June 1, 2006. It is an interesting discovery of two different forms of music: European Jazz and Vietnamese traditional music.
The concert will be attended by French band Mezcal Jazz Unit and Vietnamese artists, such as saxophonist Tran Manh Tuan, T'rung player Ho Nga (a musical instrument of the ethnic minorities in Viet Nam), Vietnamese two-chord fiddle player Nguyen Thu Thuy and monochord player Nguyen Anh Tuan.
Relying on the same musical title and suggestion, artists will start from their own traits, make the most of their creativity and then direct themselves toward one common point, that of the unique musical world "Looking for the Wind".
The audiences will enjoy the interaction and characteristics of the two forms of the music in a well-tuned harmony.
Mezcal Jazz Unit has been led by Emmanuel de Gouvello since 1986. It consists of four members: Pierre Diaz, soprano & tenor saxs; Vivian Pérès, drums; Christophe Azéma, alto & baritone saxs; and Emmanuel de Gouvello, bass.

It is the second time Mezcal Jazz Unit arrived in Viet Nam, the first being in December, 2005.  They will take part in the Hue Festival on June 4 and 6, 2006 and then carry on with their tour in Ha Noi.