The committee of Vietnamese Fatherland Front in Ho Chi Minh City (HCMC), Department of Culture and Information of HCMC and HCMC Television will organized a concert themed "Melody of Love 7" to aid the poor of HCMC and the victims of Typhoon Chanchu at Lan Anh Club on May 27, 2006.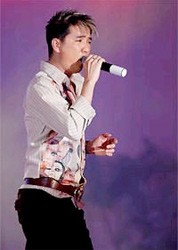 Singer Dam Vinh Hung
The performance will be attended by many famous singers, such as Cam Van, Duy Quang, Dam Vinh Hung, My Tam, A&C band, etc. "The Child", a hot song of musician Minh Khang, is a main item with the chorus of most singers.

Especially, religious and national organizations of HCMC will also take part in the concert, such as the Catholic Solidarity Committee with the item of "Join Our Hands Together" which will be performed by White Sand band, Chinese Task Committee with the item of "Thousands of Lanterns, Ten Thousands of Words of Love", and Buddhistic Association of HCMC.

According to director Huu Luan, the performance will create its own characters. The fund raising concert is not only for the poor in HCMC, but also the Typhoon Chanchu's victims, Mr. Le Hieu Dang, Deputy Chairman of the committee of Vietnamese Fatherland Front in HCMC said.

A ticket costs only VND20, 000 and on sale at Lan Anh Club, 291 Cach Mang Thang 8 Street, District 10, HCMC.