A concert celebrating the 200th anniversary of Declaration of Independence of the Bolivarian Republic of Venezuela will be held at the Hanoi Youth Theater on December 15.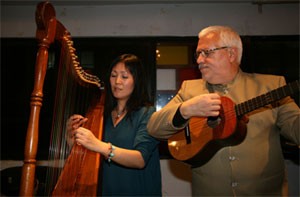 Venezuelan artists, Maurice Reyna (R) and Yoko Yoshizawa
The music performance will take place at the Army Art-Culture University on December 16 and Central Pedagogy University of Art on December 17.
Two Venezuelan artists, Maurice Reyna and Yoko Yoshizawa and Vietnamese artists including Lam Nguyen (contrabass) and Bui Manh Dung (percussion) will join the event.
Maurice will play guitar Cuatro, a national instrument of Venezuela. The four-stringed instrument is played in all regions of Venezuela. Yoko Yoshizawa will play a harp, a multi-stringed instrument, very popular in Africa, Europe, America and Asia.
Maurice Reyna is a musician, music composer, actor and producer. He is currently Cultural Attaché at the Venezuelan Embassy in Japan. Yoko Yoshizawa is a member of the Ahonda band. She has had many tours within Japan.