A concert, "Cherry Blossom – Apricot Blossom", will be held September 1 at Legend Hotel, HCMC, to mark Vietnam National Day and a cultural exchange program, Japan - Mekong 2009.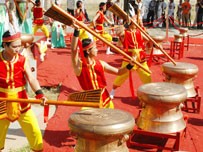 Artists play bronze drums at the opening day of the Japan-Vietnam Culture Exchange Program in Hoi An Town on August 14. (Photo: Thanh Nien)
Sixteen Japanese and 18 Vietnamese musicians will perform.
Vietnamese audiences will enjoy "Japan's Four Seasons," a work by Japanese composer Masaki Hayakawa in the Baroc style and traditional Japanese melody.
Tokuhisa Masanori from Japan and Darren Anthony from Australia will conduct.
Vietnam annually organizes festivals for Vietnam – Japan Culture Exchange Day, with an aim to strengthen friendly ties between the two nations.