A special 220-minute concert titled "footsteps of the Central" with 39 interesting items regarded as storytelling and honoring the beauty of the land and local people in the Central region will be held at the Hoa Binh Theater on July 16.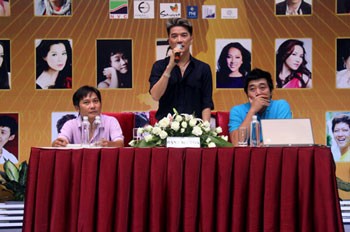 Singer Dam Vinh Hung (C) speaks at a press conference on the concert.
The organizer, pop star Dam Vinh Hung and his famous friends such as actress Hong Van, actor Hoai Linh and singers Ngoc Anh, Quang Linh, My Tam, Cam Ly, Quang Dung, Ho Ngoc Ha, Phi Nhung, Kasim Hoang Vu and Duong Trieu Vu will join the concert.
Vietnam's central region faces natural disasters and floods annually, some of which can be quite severe.
This has prompted singers to join hands to donate all proceeds of the concert to the disadvantaged people in the Central region, especially poor disabled children in Thua Thien-Hue, Quang Tri and Quang Nam-Da Nang provinces.