Many entertainment venues across the city are busy preparing to hold exciting activities and entertainment programs to mark Vietnam National Day on September 2.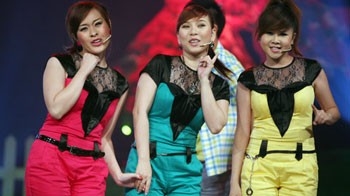 The Mat Ngoc band will join a concert at the Ho Chi Minh City Youth Cultural House on September 2.  (Photo: Tuoitre).
A grand concert honoring the many achievements and developments in the city will be held at the September 23rd Park in District 1 on September 2. The concert will be broadcast live on HTV9 channel.
Other free music performances celebrating National Day will be held at the Ho Chi Minh City Youth Cultural House and the Municipal Labor Palace on the same day.
A concert presenting a rendition of the Ho Chi Minh symphony by composer Pham Hoan Long will be held at the HCM City Conservatory of Music on September 1. The music piece will be performed by the symphony orchestra of the HCM City Conservatory of Music under the baton of conductor Tran Vuong Thach.
Meanwhile, other stage performances attracting audiences are the Cai Luong plays and dramas, featuring popular actors and actresses at various theaters including Idecaf, 5B Vo Van Tan, Hoang Thai Thanh, Phu Nhuan, Superbowl, Tran Huu Trang and Dam Sen Cultural Park.
Cinema halls will present to movie lovers Hollywood blockbuster films such as Rise of the Planet of the Apes, Fright Night, Friends with Benefits, Monte Carlo and the Vietnamese movie, Long Ruoi.
A photo exhibition titled "Pride of Vietnam- 66th independence anniversary" presenting more than 100 photos is being held at the Lam Son Park. Among the exhibits are 15 pictures of the late President Ho Chi Minh, showing his activities after Independence Day on September 2, 1945.
80 photographs showing the achievements and changes in HCM City in various fields such as economy, culture and society are displayed at Chi Lang Park.
60 exquisite photographs showing the spectacular beauty of Vietnam are on public display along Dong Khoi Street.
 
The displays will run until September 30.

Ho Chi Minh City is planning two spectacular firework displays on September 2 to commemorate the August Revolution and the 66th anniversary of National Day.

According to the People's Committee of Ho Chi Minh City, high-range fireworks will be set off from Thu Thiem tunnel in District 2.
A low-range fireworks display will take place at the Dam Sen Park in District 11. Local residents and visitors can watch the display from inside the park.

The live firework displays will begin at 9 pm on the night of September 2. Ho Chi Minh City Television will air the firework displays live for its viewers.