Viet Nam's veteran violoncellist Bui Gia Tuong will perform in a concert at Ho Chi Minh City Conservatory of Music on November 30 to celebrate his 70th birthday.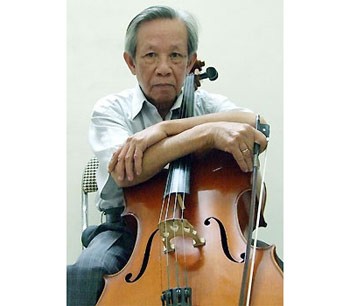 Violoncellist Bui Gia Tuong
Gia Tuong will be joined on stage by exemplary students of his, including pianist Pham Quynh Trang, cellists Vu Thanh Hao and Vu Hong Anh and others.
They will entertain music lovers with masterpieces from Schubert, Rakov, Kreisler and Vietnamese composer Hoang Duong.
Born in 1937 in Ha Noi, Gia Tuong graduated from the Tchaikovsky Music Institute in Moscow where he later also earned a master's degree.

From 1986 to 1999, he was vice-director and director of the Department of Performance Art under the Ministry of Culture and Information and director of the Viet Nam Opera and Ballet Theater. In 2001 he was granted the "People's Artist" title and received the first level Labour Medal in 1998.
He has fifty years in the company of music and has made several tours abroad to Finland, Russia, Bulgaria, Hungary, the Czech Republic, the USA, Japan, France, Belgium and other nations.
The concert, to take place at 8 p.m., also aims to mark the golden jubilee of the Viet Nam Association of Composers and Musicians.