Vietnamese and Japanese architects and researchers shared their experience in preserving wooden architectural structures at a conference in the central province of Thua Thien-Hue on October 25.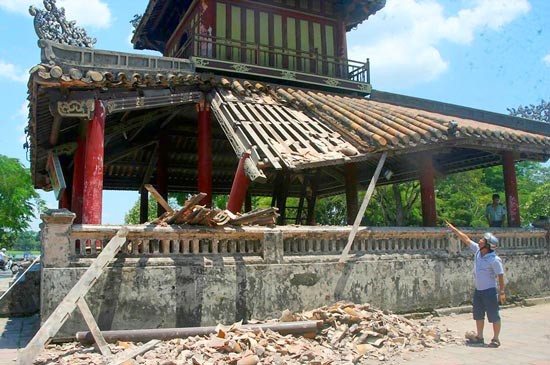 A corner of Phu Van Lau (Pavilion of Edicts) collapses in May (Photo: SGGP)
Themed "Preservation of the wooden architectural heritage in Asia: case studies from Vietnam and Japan", the event was jointly held by the Hue Relics Conservation Centre, the Cultural Heritage Association of Vietnam and the All Japan Society of Architects and Engineers, looking to build a comprehensive management plan for Hue heritage property.
According to UNESCO Representative in Vietnam Katherine Muller Marin, financial and technical support from various sources has enabled the Hue Relics Conservation Centre to restore a lot of wooden architectural buildings and gain valuable experience to share.
The conference offered a chance to systematize lessons learnt during the conservation process and popularize them in a wider community, she said, stressing that preserving wooden architectural structures is to manage world heritage sustainably.
Existing for nearly one and a half centuries from 1802 to 1945, the Nguyen dynasty left a huge amount of architectural heritages in Hue city, including wall systems, tombs, temples and palaces. However, they are facing risks of disappearing due to bad impact of socio-economic development and natural disasters.
Since 1994, Japan has paid special attention to the study and preservation of wooden architectures in the Hue relics site.