Culture and Information Minister Pham Quang Nghi has just ordered the recognization of the ancient village of Duong Lam in the northern province Ha Tay as national heritage.
In a meeting with a reporter of Sai Gon Giai Phong newspaper, Director of Ha Tay Culture and Information Department Dang Van Tu said this is great news to the villagers.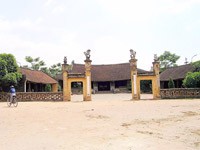 Mong Phu communal house
A village of national heritage
Laterite village Duong Lam is 50 km West of Ha Noi. There has been residence here for 3,000 to 4,000 years. Its beauty lies in its ancient laterite architecture. Heritage Department of Culture and Information Ministry asked the local authority to complete the documents to rank this village in national heritage.
Director of Ha Tay Culture and Information Department Dang Van Tu said it took the local authority one year to prepare and present all documentation to the Vietnamese Ministry of Culture and Information. The laterite village of Duong Lam of the northern province of Ha Tay in the end was first among three nominated villages; the other two being the Dinh Bang village of the northern province Bac Ninh and the Hien downtown area of the northern province of Hung Yen.
Chairman of Duong Lam People's Committee Phan Van Hau said its seven items, including Mong Phu Temple, the Mia Pagoda, the Tomb of King Ngo Quyen, and the Temple of General Phung Hung had been ranked as national heritage before the village was recognized.
The cultural historical values lie not only in these mentioned vestiges but in the village space and the architecture of houses, ponds, wells, ancient river wharves and old trees, not to mention its depth of historical values and cultural characteristics.
A village of deterioration
However, the matter of utmost urgency is, according to the experts on cultural conservation, how to withstand the urbanization and industrialization to keep the primitive state of the village and how to minimize the effects of wear and tear. Phan Van Hau admitted that the originality and antiquity of the ancient structure of the village have seriously been damaged.
Modern concrete buildings have been replacing old houses. People are paving the roads of antique bricks with concrete. Some households have even sold lacquered streamers, wooden panels and antique tables, chairs and worshipping objects. Meanwhile, families who are well aware and vestige-loving are unable to protect their houses against wear and tear.
An official of Heritage Department said hundreds of century-old ancient houses are deteriorating quickly.
"We don't know how to preserve and renovate our houses," said Ha Nguyen Huyen, a writer, the owner of a nearly 200-year-old house. Together with the attack of time, ancient houses are facing other damaging factors such as improper maintenance, in the case of the temple of General Phung Hung, and thefts of antique statues from Mia pagoda and Kings' nominations from Mong Phu temple recently.
A costly preservation project
Ha Tay People's Committee has signed the restoration and embellishment project of the ancient village of Duong Lam, scheduled to run from now to 2020. The estimated cost is over VND200 billion. The project will be launched on May 19, 2006. The authority is giving priority to construction items of Mong Phu Temple, epitaph, temple of literature, group of ancient wells, ancient laterite houses.
From 2003 on, Japan has aided Duong Lam to investigate, survey and carry out the preservation measures. The National Research Institute for Cultural Properties Nara (Japan) has taken photos and drawn designs of 500 traditional houses in two hamlets Mong Phu and Cam Thinh as well as undertaken researches on cultural and historical values.