Ta Tra building, an important relic of the Hue Imperial City in the central province of Thua Thien-Hue, was reopened on August 20 after a period of conservation.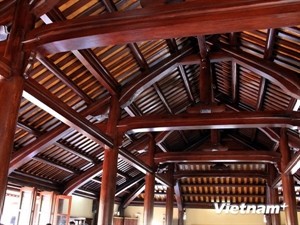 Part of the restore wood frame of Ta Tra (Photo: VNA)
Phan Thanh Hai, Director of the Hue Monuments Conservation Centre, said Ta Tra, built in 1804 – the oldest in the city, is part of the Dien Tho Palace. It served as a relaxation and reception place of Queen Mothers under the Nguyen Dynasty (1802 – 1945).
It cost the centre 11.1 billion VND (nearly 528,600 USD) to restore the building comprehensively from wood frame, roof, foundation, walls, to ornamental details as it was seriously downgraded due to war and weather impacts. The work was carried out by the centre and the branch of the Institute for Building Science and Technology in the central region.
The Dien Tho Palace, grouping more than 10 buildings located within a rectangular area some 100m in width and 150m in length, is a major part of Hue Imperial City – a UNESCO-recognised cultural heritage since 1993.-VNA