A Vietnamese contemporary fine arts exhibition on Vietnam's 1000-year-old capital city of Hanoi is being held in Washington D.C. in the USA.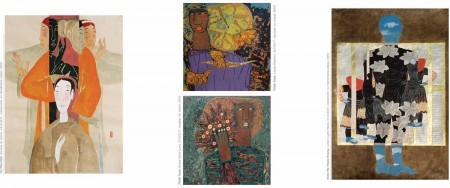 Paintings are displayed in the exhibition.
Exhibits by six Vietnamese artists, namely Dang Thao Ngoc, Dinh Thi Tham Poong, Phung Pham, Trinh Tuan, Vu Dinh Tuan and Vu Thu Hien have been selected from a collection of more than 800 Vietnamese contemporary fine art works by Raquelle Azran, an Israeli woman who has a passion for Vietnamese fine art.
The paintings are in various mediums and materials such as paper, oil, canvas, lacquer and wood, all honoring Thang Long-Hanoi on its 1000th anniversary (2010).
Ms. Raquelle Azran said that she wanted to bring to American art lovers the unique and diversified arts of Vietnam and introduce the country, its people and its culture.
She has organized exhibitions of Vietnamese painters in Singapore, Israel, the Netherlands, the UK and Vietnam.
The exhibits are on display till September 24.