Twelve contestants recently reached the semi-finals of the 6th Ho Chi Minh Television's Master of Ceremonies contest.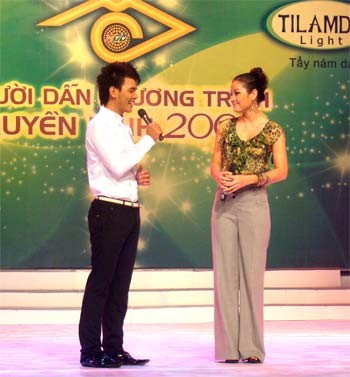 Duy Hai (L) in a conversation with another contestant, Phuong Trinh, on HTV9 (Photo: Courtesy of Cat Tien Sa Media)
The four semi-final nights, held from August 5 to 12, will play host to five men:  Nguyen Tuan Nam, Huynh Trung Phong, Tran Duy Hai, Phan Hoang Minh and Hoang Anh Duy. 
Seven women will also take part, they are Nguyen Thanh Thuy, Nguyen Thi Thu Thao, Bui Phuong Linh, Tran Thi Ngoc Nho, Nguyen Thu Ha, Nguyen Thi Bao Ngoc and Dang Thi Hoang Trinh. 
The selected contestants will have to compete in four competitions on August 5, 7, 8 and 12 at the HTV's stadium.  
The contestants will have to present their MC skills in the tests, including communication, MC a favorite TV program and interview a celebrity.  
The semi-finals will be broadcast live on HTV9. 
At the end of the semi-final, all the contestants will meet up together for the gala concert on August 15 at Hoa Binh Theatre. This is an occasion for the candidates to communicate and share their experiences from the contest with the audience. The gala will be also be screened live on HTV9.  
The final at the Hoa Binh Theatre on August 20 will comprise the top four contestants, where they will have to host a talk show, introduce a TV guest and interview a special guest. 
The top winner will receive the title "En vang" (Golden Swallow) along with VND30 million (US$1,660).  
The runner-up will be rewarded the title "En bac" (Silver Swallow) and the prize of VND20 million ($1,110).  
The two second runner-ups will each receive VND10 million ($550).  
There are two consolation prizes, including "Contestant with the most emotional voice" and "Most popular," as voted for by viewers. Each is worth VND5 million ($270).
Related article:

HCMC TV announces annual emcee contest