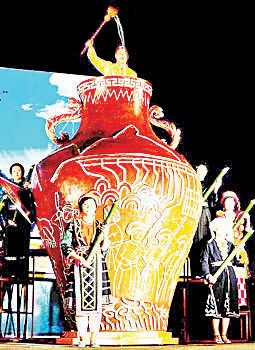 The corn alcohol pot on display during the Tourism Week in the southern Highland district of Ha Nang (Photo: SGGP)

Vietnam's biggest corn alcohol pot was presented to public at the "Lakes in the mountains" Tourism Week, hosted by the People's Committee of the southern district of Ha Nang, Tuyen Quang Province over October 4-6. 


The 2,500-liter pot was made by variety of materials, including cement, steel, plaster and molasses.  
The corn alcohol, ruou ngo, was made from 4,000 kilos of raw maize and 200 kilos of enzymes brewed by leaves. The receipt to make the alcohol is a well-kept secret of the local ethnic minorities.  
During the tourism week, the district also highlighted ten local historical sites, which were recently recognized as vestiges of the country's history by the Ministry of Culture, Sports and Tourism.  
The sites are Phia Vai Cave, Song Long Cavern, Nam Me Waterfall, Phia Muon Cave, Pac Ta Temple, Phuc Lam Pagoda, military weapon factory no. H53, Thuong Lam tourist zone, the Party's secret document printing house and a saltpeter manufacture area.