The Youth Theater in Hanoi has attracted young audiences with children plays,
Cuoc phieu luu cua chu ga trong choai
(Adventures of Rooster),
Manh lego mau do
(The red lego brick),
Con chim xanh
(The Blue Bird, a play for children by the famous Belgian playwright Maurice Maeterlinck).
Meanwhile the Soviet Union Cultural Friendship Palace will perfrom the play titled
Tham hiem vuong quoc xi trum
(Exploring the Smurfs' village); the Cong Nhan and Au Co theaters present dramas,
An Khe Tra Vang
(A Sack of Gold for Star-Fruit),
Cau be khong lo va kien chua
(Giant baby and King Ant),
Truyen thuyet Spiderman
(The legendary of Spiderman).
In Ho Chi Minh City, IDECAF theater will present to little audiences the new drama,
Hoang tu- Cong chua va 9 vi than ..bi bat
(captured princes, princesses and 9 genies) in this summer.
The play directed by Vu Minh tells the stories about five siblings, including princes and princesses who make all efforts to rescue genies, Sun, Moon, Earth, Water, Wind, Forest, Mountain, Fire from the Dark genie. The works aims to give children lessons of love and bravery.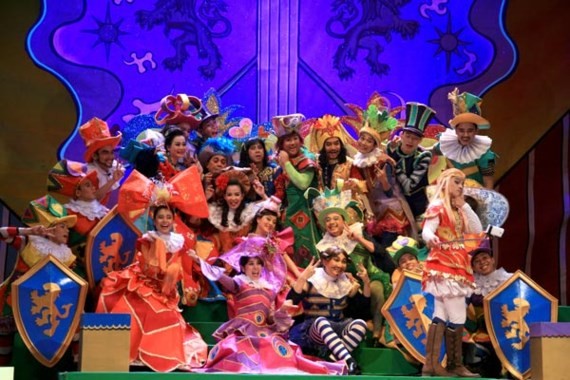 A children performance by IDECAF theater
The play is part of the popular children program Ngay Xua Ngay Xua (Once Upon a Time) that begun in 2000 by IDECAF.
Performances will take place at Ben Thanh Theater in Ho Chi Minh City's District 1 at 4 p.m., and 8 p.m. on Friday, Saturday and Sunday every week, being started from May 20-June 25.
Phuong Nam Art Theater has also present the circus play,
Bach Tuyet va 7 chu he
(Snowwhite and 7 clowns).
Additionally, a wide range of cultural, sporting and entertainment activities will be held at Dam Sen Cultural Park, Saigon Zoo and Botanical Gardens.
On the occasion of summer, publishing houses, such as Saigon Books, Ho Chi Minh City General Publishing House, Kim Dong and Youth Publishing House have released many children books in various genres, such as comics, literature, text and reference books.