Four famous photographers listed in the Vietnamese encyclopedia were Dang Huy Tru, Khanh Ky, Vo An Ninh and Dinh Dang Dinh. Among them, Dang Huy Tru was the first person brought the photography to the country. Khanh Ky developed the art form within Vietnam.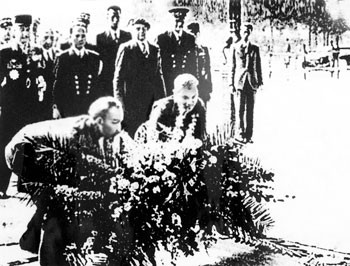 The late President Ho Chi Minh (L) visits the artist's grave in Paris.
Khanh Ky, whose real name is Nguyen Dinh Khanh, was born in 1874 in the Lai Xa village of the Kim Chung Commune in the Hoa Duc District of the province of Ha Tay (the province was merged into Hanoi in 2008).
The photographer instructed people in the village on his craft, effectively making it a "photography village," by the end of the 19th century, which developed brilliantly during the first half of the 20th century.
He opened the Khanh Ky lab in Hanoi in 1892 and followed that by opening more than 150 labs throughout the country utilized by more than 2,000 photographers. 35 of the labs were located in Hanoi, more than 35 others were installed in Saigon (former name of Ho Chi Minh City before 1975) and provinces in the South.
Khanh Ky is now worshipped as Vietnam's father of photography by the inhabitants of his native Lai Xa Village. Photographers from the village now work all over the world in locations such as Laos, Cambodia, Thailand, Myanmar, China and even Europe.
The small community located on the road that links Hanoi to Ha Tay was recognized as Vietnam's "photography village" by the government.
Lai Xa is also home of well known people: professor Nguyen Van Huyen, the late Minister of Education and Training; scientist and Ph.D in physics Nguyen Quang Rieu; professor Nguyen Quang Quyen, deputy principal of HCM City University of Medicine; professor and Ph.D in physics Nguyen Quy Dao; People's Artists Bach Diep and Phi Tien Son as well as others.
The names of Lai Xa's photography studios usually employ either the words "Ky" or "Lai" such as An Ky, Thinh Ky, Thien Ky, Phuc Lai, Kim Lai, My Lai, in homage to their founding father.
Khanh Ky travelled to France and opened a photo lab in Paris between 1916-1917. The photographer and his friends included patriot Phan Chu Trinh, who gave a financial aid to the late President Ho Chi Minh who was carrying out revolutionary activities in Paris from 1917-1923.
The photographer also instructed Uncle Ho how to take photographs that could earn him money to cover living expenses.
The Vietnam's father of photography passed away on May 31, 1946 in Paris. The late President paid tribute to the artist at his gravesite, during in the late leader's Parisian visits.
Lai Xa photography village and Vietnam Photographers Association together with artists throughout the country will gather in Lai Xai to celebrate the 64th Ancestor's Death Anniversary on 20th of April of the lunar calendar (June 2nd).