Famed US C&W (Country & Western) duo Bob and Tucker Livingston are to tour Viet Nam, January 2-14.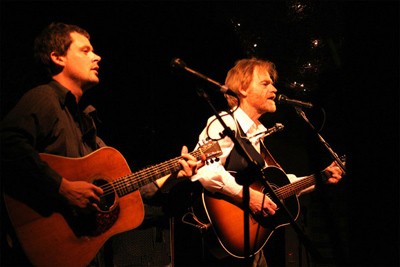 Bob Livingston and his son Tucker
Texas Music International (TexMI) reports, January 1, "New Years Day, Bob Livingston and son, Tucker, are to take their brand of multi-cultural folk and rock to Viet Nam and Thailand for a 20 day tour."

January 4, the duo are to play Ho Chi Minh City's HCMC Youth Culture House before bopping on to Vung Tau, Ha Noi, Thai Nguyen and Quang Ninh.

The Livingstons also plan to conduct monster music mashing classes for students of the Ho Chi Minh City and Ha Noi Conservatories of Music.

The father and son duo has toured the US extensively and performed in Asia, Africa and the Middle East.

A founding member of Texas' acclaimed Lost Gonzo Band – a cunning tribute to the inimitable godfather of Gonzo journalism, Hunter S Thompson, – Bob Livingstone's solo album, 2004's Mahatma Gandhi & Sitting Bull, was chosen as one of the year's top ten albums by the Austin-American Statesman, a widely respected US daily.

Singer-songwriter Tucker Livingstone has been featured artist at the Austin City Limits Music Festival, the Kerrville Folk Festival and on Voice of America.

TexMI's website provides an intro and discography for Bob Livingstone's Cowboys and Indians band, as well as a personal bio and press photo on the Bob himself.

The tour's sponsors include the U.S. State Department, no less, the New World Hotel, Vietnam-American Training College (VATC), M&M Entertainment Company, Lien Huong Ao Dai, Thanh Liem Service Company Limited and the Phuong Nam Cultural Corporation.