The 6th Ho Chi Minh City Book Fair began March 15 in Le Van Tam Park featuring over 200,000 titles and more than 20 million copies of books.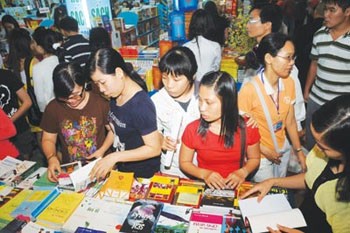 Visitors leaf through books at Vietnam's largest book fair in HCMC on March 15 (Photo: Thanh Nien)
The annual fair, organized by the city People's Committee, boasts the participation of 31 foreign publishers this year, the highest number ever.
First organized in March 2000, the book fair also offers a chance for writers, publishers, printing houses and readers to exchange information and hold discussions.
Several activities are being held daily throughout the event, including reading and writing seminars, the launch of new titles, and talks given by authors.
Book companies this year have taken steps to present publications in new and dynamic ways.
 
For instance, the HCMC Book Distribution Corporation (FAHASA) has arranged books into the shapes of famous Vietnamese architectural works like Khue Van Cac, a part of Van Mieu-Quoc Tu Giam (Temple of Literature) in Hanoi, and Ben Thanh Market in HCMC.
Kim Dong Publishing House has created a book tree where the latest works can be found dangling from above. The Phuong Nam Cultural Corporation, meanwhile, has set up a wifi coffee shop next to their display area to serve visitors.
The fair's organization board is also presenting an exhibition this year titled "1,000 years of Thang Long-Hanoi."
Visitors to the festival can enjoy 10 percent discounts on all books and during the last three days of the fair, discounts of up to 80 percent will be offered.
The fair will end on March 21.

Related Article:
HCMC Book Fair returns bigger, better than ever