A percussion music festival entitled "Cracking Bamboo" has left a strong impression on Ho Chi Minh City's music lovers at the Conservatory of Music on September 25.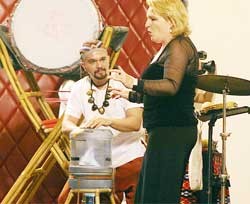 Belgian singer Francoise Vanheck (R) perfroms at the concert.
The audience had a chance to enjoy a combination of the European contemporary music and Southeast Asian traditional music which was performed with simple percussion instruments.
On stage were 15 artists of the bands from Norway, Thailand, Belgium, Philippines and Viet Nam.

Earlier, the festival was conducted in Ha Noi from September 15-22 with the participation of forty-five artists. They were later divided into three groups to perform in Ho Chi Minh City and Indonesia from Sept. 22-27; Vientiane (Laos) from Sept. 22-24; and Phnom Penh (Cambodia) from Sept. 25-28.

Cracking Bamboo is co-organised by the Asia-Europe Foundation (ASEF), the Vietnam National Music Institute, and the Goethe Institute.