A mock village complete with traditional gate, bamboo huts, shrines and bustling rural market is the venue for a promotional event being held in Ha Noi's royal citadel all this week by the Viet Nam Association of Craft Villages.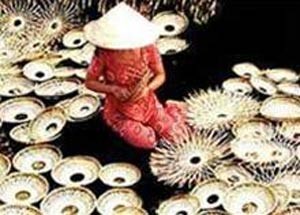 Conical hats produced by a craft village

It's a commercial do so there are plenty of stalls selling the products of Viet Nam's numerous craft villages, like silk from Ha Dong, Bat Trang pottery, decorative lanterns, sculptured stone, conical hats, kites and other handicrafts too numerous to mention.

True to form, the gateway at the entrance is made of bricks from Bat Trang, the pottery village in nearby Ha Tay province renowned for its fine white clay and skilful artisans. Indeed, the entire set-up has an air of authenticity to make the visitor forget about the noisy city just outside the perimeter.

Among the many displays is a large showroom set up by the Hoa Lu Handicraft Company to advertise its wares, provide information about craft villages and other tourist attractions, and sell package tours to these places.

Stepping inside Hoa Lu's showroom is like entering a world of long ago when craft villages and streets were thriving throughout the land. It tells a tale extending back for thousands of years and should make more than a few visitors feel nostalgic.

Back in the present, the package tours arranged by Hoa Lu and other exhibitors include along the Red River and to Bat Trang and another craft village called Van Phuc, also in Ha Tay.

As with all events of this nature, there is a competition for the finest pieces of art and craft on display and their creators.

Besides advertising the craft villages that still pepper Vietnam, the event, which concludes on Sunday, celebrates the recent recognition of Thang Long Royal Citadel as a national heritage site, hence the involvement of the Ha Noi Citadel Conservation Center.