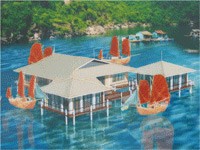 The model of Cua Van floating cultural center.
Cua Van Floating Cultural Center is to open in Cua Van fishing village, Ha Long Bay on May 19, 2006. It is part of the project "Ha Long Ecological Museum", funded by Norway with the initial capital of US$410,000.
The project aims to conserve and introduce the cultural values of Vietnamese fishermen. It also publicizes, promotes and educates fishing community and tourists to protect the environmental landscapes, develop the cultural values of the fishing villages and world heritage Ha Long Bay.
It is the first floating cultural center, which is intended for fishing community, in Viet Nam.
The center is the place where Cua Van fishing villagers and others to meet and socialize with visitors.
Artistic objects and shows of local culture will be displayed and performed to serve tourists in the center. The objects and photos which are introduced in the center are under the themes of Nature and Human, Means of Living of Fishermen, The Fishermen's Life, The Water-Living and Human Life, The Spiritualness and Spiritual Life and For Today and Forever.