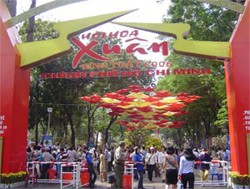 2006 Tao Dan Lunar New Year Flower Festival. (Photo: Yen Chuong)

As usual, this year's Lunar New Year Flower Festival in Ho Chi Minh City took place at Tao Dan Cultural Park, 55C Nguyen Thi Minh Khai Street, District 1 from January 24 to February 5, 2006. Enjoying the spring and taking pleasure in viewing flowers at this place have become a tradition of Ho Chi Minh City's people on Tet for a quarter of century. 

The Festival included lots of interesting activities such as exhibitions of Vietnamese calligraphy, parallel sentences for Lunar New Year, flowers and ornamental fish, rock-garden; flower arrangement contests, fruit display; variety music shows, folk games, souvenir shops.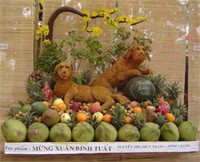 Fruit display. (Photo: Yen Chuong)
The Festival gathered various valuable and rare flowers throughout the country, including orchids and water-rails from Da Lat City, cherry blossoms, camellias and amplexicauls from Ha Noi, 100 year-old thistle from Vinh Long province, over 100 year-old La Han pine and tamarind tree, and many kinds of bonsais and orchids from Western and Eastern regions. 
 
Especially, for the first time, a dog exhibition was held because this year is the year of the Dog. Also, a beauty contest for dogs called "the two closest friends" was held on the fourth day of the Lunar New Year (February 01) under the Effem Food company's sponsorship. The contest attracted 400 dog candidates and 30 most beautiful couples of dogs got through to the final. 
 
A charity auction of gold-medal winning works of nature called "Share your Heart" was held at 8:30 pm on the eighth day of the Lunar New Year (February 5). The natural works included ornamental fish and natural stone. It was the first charity auction held at the Flower Festival.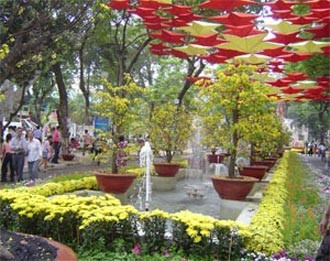 People are enjoying the flowers at the Festival. (Photo: Yen Chuong)