The 2nd International Experimental Theatre Festival 2006 will bring various arts performances with the attendance of many theatrical art troupes of Viet Nam and from the world.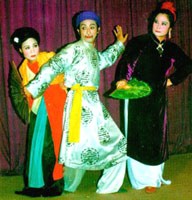 Cheo (traditional operetta), one of the Viet Nam's typical performing arts, will be introduced at the festival.
The festival will be bigger than the first one with the attendance of five to seven Viet Nam's typical arts performance units performing various forms of arts such as drama, tuong (classical drama), cheo (traditional operetta), cai luong (reformed theatre), dan ca kich (folk drama), puppetry, and circus.
In addition, there will be ten theatrical art troupes representing developed performing arts from Korea, China, Japan, Australia, England, France, Germany, the US, Russia, Hungary, etc.
Troupes taking part in the festival should send in the English version of their scenarios and video tapes of the dramas to the organizers before the deadline of August 31, 2006. The maximum duration of each drama is 120 minutes.
Vietnamese playwrights, directors, actors, actresses, painting artists and musicians are encouraged to present new ideas and artistic creativity at the festival.
The festival is not only an opportunity for Vietnamese stage artists to introduce the unique value of Vietnamese traditional performing arts to the world, but also a good chance for them to exchange knowledge and learn from achievements of the world's stage arts, so as to build up the advanced and culturally rich Vietnamese theatrical art.
The 2nd International Experimental Theatre Festival 2006 will take place in Ha Noi for 12 days (December 4-16, 2006), reported the Vietnamese Stage Artists Association at a press briefing in Ha Noi.