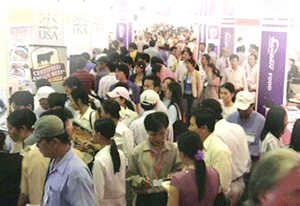 About 7,000 visitors join the FHV 2006 held from September 27-29.
On September 27, the 3rd Food and Hotel Viet Nam Exhibition (FHV 2006) took place at the Ho Chi Minh City International Exhibition and Convention Center (HIECC) with the participation of 400 companies from 28 countries to introduce the latest products of the food and hospitality industry.
In the exhibition, experts from Italia introduced a kind of Italian cheese that has never been in Viet Nam before, while South Korean presented at the show its famous traditional food and American food producers with products made of poultry. Automatic coffee machines, multi-function equipments for hospitality sectors and retailers of famous companies from America were also on displayed.
One new thing in this exhibition is the contest entitled "talented chefs in action". More than 70 chefs attend with six show-cases on Vietnamese food in two rounds of competition. The Saigon Professional Chefs' Club also performs the culinary art and new foods cuisine during the exhibition.
The event is held from September 27-29, 2006, estimately attracting more than 7,000 visitors.