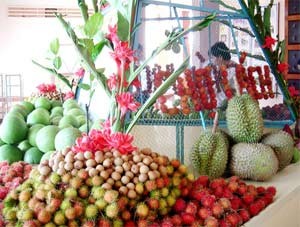 Fruits are displayed at the festival in Suoi Tien.
From May 27 to September 2, the 2007 Southern Fruit Festival, taking place at the Suoi Tien Culture Park in district 9 HCMC, will be home to numerous activities to mark and promote the popular southern fruit trademarks
.
The festival's main attractions include art performances, fruit carving lessons, folk games with fruit themes and other fruit-related exhibitions such as seed paintings, the "Miraculous seeds" and an exhibition of 50 tropical orchid species.
Visitors will have a chance to enjoy a wide variety of fruits including seedless Tien Giang guavas, Lai Vung tangerines, Hoang Son king oranges, Tan Trieu grapefruits, Tan Hung guavas and many other specialties.
Notably, visitors will have the opportunity to purchase fruit at 25-35% less than market value. Those visiting as part of a group will also get a 10-40% discount on the entrance fee to the festival.
The event has been co-organized by the HCMC Department of Tourism and Suoi Tien Park.