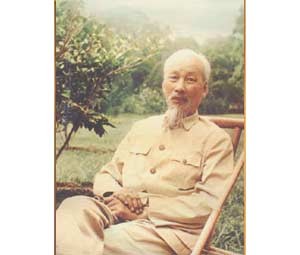 Uncle Ho in the garden of the Presidential Palace
Various activities have been organized to commemorate the 117th birthday anniversary of the late President Ho Chi Minh.
On May 14, Vice-President Truong My Hoa and Vice- Standing Secretary of the Ho Chi Minh City Party Committee, Nguyen Van Dua, attended a conference wrapping up the initial stage of a campaign organized by the Ho Chi Minh City Women's Union to study and emulate Ho Chi Minh's moral example.
Three months into the campaign, 19 out of more than 800 of the union's members that had been recommended to become members of the Communist Party, received a membership title.
The Party Committee of the Viet Nam Sea Transport and Chartering Company (Vitranschart) has also recently coordinated with the Ho Chi Minh Museum and the National Administration Institute in Ho Chi Minh City to organize a "study and work after Ho Chi Minh's moral example" exhibition for its 1,400 employees.
More than 140 of Uncle Ho's manuscripts, related newspaper articles and photos illustrating the dignity of government officials and national culture are being displayed at 428 Nguyen Tat Thanh Street, Ward 18, District 4 from May 14 to May 16.
On the evenings of May 15 and 16, the orchestra of the Viet Nam Opera-Ballet Theater will perform in two gala concerts at Ha Noi's Grand Theater entitled "Bai ca thang nam" (May songs) and "Nho mai cong on nguoi" (Remember Uncle Ho's great virtue forever). During the performances, the life and cause of the late President Ho Chi Minh will be presented in songs, ballets, poems and documentary films.
An art exchange jointly organized by Viet Nam Television, the People's Army Newspaper and the Ho Chi Minh Museum will also take place at the Grand Theater in Ha Noi, on the evening of May 17.