Both the 33rd Ho Chi Minh City Art Photograph Festival and a press photo exhibition entitled "Golden Moment" opened Monday. They feature photographs that won prizes at two recent contests.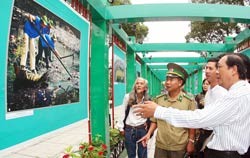 Exhibition visitors at Lam Son Park, District 1
With its theme "The Year 2008: Year of Civilized Urban Lifestyle", the festival is organized by the Ho Chi Minh City Photographers' Association and the Exhibition Information Center of the city's Department of Culture, Sports and Tourism.
Being held at Lam Son Park in District 1 and at the office of Photographers' Association at 122 Suong Nguyet Anh, District 1, the festival highlights 13 winning photos and 99 others selected from more than 900 that were entered in a recent art photography contest.
The organizers of the festival presented first prize to HCMC artist Vo Van Hoang for his photograph entitled "Rubbish, Rubbish, Rubbish."
They also gave two second and three third prizes to the art works by five other photographers who are also residents of the city.
The festival will last until October 15.
Monday also saw the Viet Nam News Agency present prizes to winners of a press photo contest entitled "Golden Moment".
About 3,100 photos by 409 photographers nationwide participated in this contest, which was mainly sponsored by the Nokia Company.
The contest's organizers presented a grand prize, two first prizes, three second prizes, six third prizes and nine consolation prizes.
The judges selected more than 100 photos to display and also named a "Golden Moment", which started on the same day.