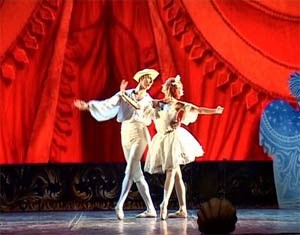 A scene in the "Carosello italiano" ballet show
To celebrate the 60th anniversary of the foundation of the Republic of Italy, the Italian Embassy and the Vietnamese Ministry of Culture and Information will jointly hold "Carosello italiano", a ballet show inspirited by the Italian great tradition of opera and melodrama, created for this special occasion by renowned Italian choreographer Fredy Franzutti.
"Carosello italiano", the finest arias from the Italian opera and melodrama, linked to the great names of Verdi, Ponchielli, Mascagni and Paesiello, will be the protagonists of this exceptional show entirely dedicated to Italian culture, inspired by the process of national unification and the spirit of Italian "Risorgimento" that found in melodrama, one of its highest artistic expressions.
The "Balletto del Sud" is an emerging star of Italian ballet, which has linked its success to excellent productions (from "Sleeping Beauty" to "The Nutcracker", from "One thousand and one nights" to "Mozart, European prodigy") and to its strong, young and dynamic imprint.
Directed by extraordinary Fredy Franzutti, the "Balletto del Sud" has performed in prestigious European festivals, collaborated with orchestras, composers, musicians and directors, who have contributed to win esteem, confidence and love from wide public and professional critics.
Being one of the most famous Italian choreographers, Franzutti has been guest of honor in many big European theatres and has created choreographies and performances for important events like "New Year Concert 2004" at Theatre La Fenice in Venice, "National Day 2003" and "A voice for Father Pio 2004".
"Carosello italiano" will be staged on June 2 at Hanoi Opera House and on June 5 at Ho Chi Minh City Opera House.