For the Hue Festival in June 2006, the British Council contributes two spectacular performances of physical theater entitled 'Line Point' by aerial artist Maltida Leyser and 'Street Arts on the South Bank'.
"Line Point" comprises two parts 'Lifeline' and 'Dead Point'. Described as a poetic and eloquent exploration of a lifetime from birth to death, 'Line Point' is a performance on and around a single vertically hung rope.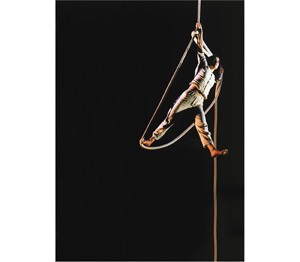 Matilda is on the rope (Photo:Quang Tuan)
This is a beautiful aerial theatre show in which the rope becomes part of the scenery. The show will take place at the West End stage of Thai Hoa Palace, Hue Citadel on June 4, 5 and 7, 2006.

Following the performance in Hue, Maltida Leyser will have another performance for Ha Noi audience on June 9 at the Youth Theatre, 11 Ngo Thi Nham, Ha Noi as well as a workshop for young professionals in the physical theater field on June 10, 2006.
In Ha Noi, the performance will also feature an extract from the latest physical theater production 'Solar Lunar Eclipse' by the Vietnamese experimental physical theatre group directed by artist Lan Huong.

In June 3-8 2006 on Nguyen Dinh Chieu, Hue City, visitors can see visual art, entertaining street theatre, extraordinary open air dances, outdoor music, street circus, pavement arts, human statues .. by Vietnamese and UK artists.

For the performance in Hanoi on June 9, 2006, free tickets available from June 5, 2006 at the British Council, 40 Cat Linh, Ha Noi or the Youth Theatre, 11 Ngo Thi Nham, Ha Noi.