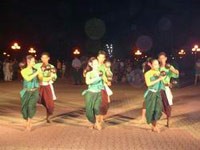 Cambodian traditional "Dance of the heart"
The delegation of Cambodian Royal Government's Ministry of Culture and Fine Arts led by Minister, His Highness Prince Sisowath Panara Sirivuth paid a working visit to Viet Nam and worked with the Vietnamese Ministry of Culture and Information on April 3, 2006.
The two sides have discussed a plan to hold "Cambodian Cultural Days in Viet Nam" and vice versa in order to boost the bilateral cultural ties and exchange management experience in the fields of culture and arts.
The group will visit and work with some cultural offices in Ha Noi, the capital of Viet Nam, Ho Chi Minh City and Quang Ninh Province from April 1 to 6.