Over 55,000 Cham people in the southern province of Ninh Thuan on October 21 celebrated their Kate festival, which is the most important event for Cham Hindu followers to worship their ancestors and wish for better crops.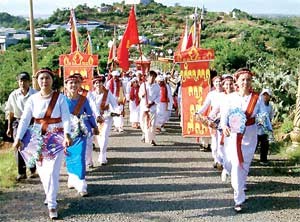 Cham people enjoy their traditional festival
Cham people in traditional costumes flocked to Poklong Garai tower, where ceremonies such as clothing procession, tower opening and statue bathing took place with many religious rites.

Cham people built the tower, which is 5 km north - west of Phan Rang and stands on the Trau hill, at the end of the 13th century to worship King Poklong Garai.

Poklong Garai (1151-1205) was a good Cham King, honored by the people as the irrigational Deity.

Every year, the Kate is held one time in July of Cham calendar (October) to memorize male deities as Poklong Garai and Porome.

The Kate festival is the most special folk event in Cham people's cultural treasure, a mirror to reflect the community's activities and the place to gather cultural creams of the people.