The Vietnamese Association of Photographic Artists (VAPA) and the HCMC Association of Photographic Artists held the third photo exhibition in Ho Chi Minh City under the theme 'Beauty of Urban Civilization'.

After the organizers had launched a contest under the theme, they had 584 photos of 97 participating photographers including 537 color photos and 33 black and white photos.
The organizers and examiners selected 116 artworks to participate in the exhibition and then selected 11 of the best artworks for awards.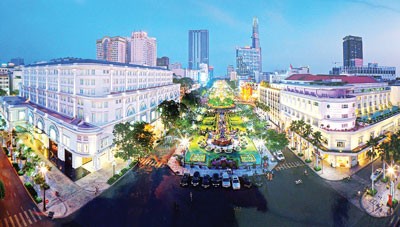 The photo of photographer Tran Trong Anh Tu (Photo: SGGP)
The first prize went to photographer Tran Trong Anh Tu for his photo 'Ho Chi Minh City Development'. Two second prizes went to photographers Le Huu Dung and Le Manh Linh for their photos 'Beauty of Traffic' and 'Class of Love'. The third prize went to photographers Tran The Phong, Tran Huu Dung, and Nguyen Van Toan. The organizers also awarded five consolation prizes to other photographers.