An exhibition entitled 'Paracel and Spratly Islands belong to Vietnam-Historical Evidence' was opened at the Reunification Palace in Ho Chi Minh City on August 22.
On display are nearly 200 maps and documents of versions of Han-Nom texts, versions of Vietnamese and French languages issued from the 17th century to early 20th century, which are valuable evidence of the indisputable sovereignty of Vietnam over the Islands.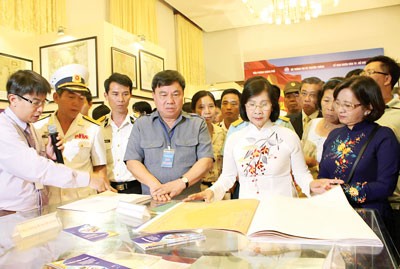 City leaders are present at the exhibition
The exhibition will be on until August 29. Later, the exhibits will move to the Ho Chi Minh City Museum.
The exhibition was attended by Ms. Nguyen Thi Thu Ha, Deputy Secretary of the HCMC Party Committee; Mr. Do Quy Doan, Deputy Minister of Information & Communication; Mr Hua Ngoc Thuan, Vice Chairman of HCMC People's Committee...