On occasion of 'Vu Lan' Buddhist Celebration ( on the 15th day of the 7th month of Lunar year ), the Vietnam-Cambodia Friendship Association and Tincom Media Company on August 10 held an exhibition and art performance titled 'Mother'.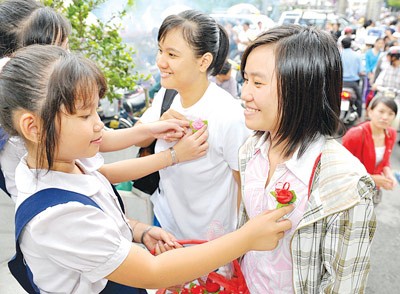 (Photo:SGGP)
'Vu Lan' is a Buddhist Celebration honoring all mothers and is known as 'Mother's Day' in Vietnam.
On the occasion, an exhibition will introduce more than 100 paintings and photos of talented photographers such as Dang Hoc, Xuan Anh, Tran Thuan and Quynh Vy.
The paintings and photos displayed in the exhibition include many kinds of rice paintings, sand paintings, calligraphy works.
The exhibition will also display a book by author Dang Hoc titled 'Kinh Phap Cu', a Buddhist teaching book translated from Vietnamese into English.
Besides, many meaningful songs honoring mothers will be performed by well-known artists such as Phi Nhung, Nguyen Phi Hung, Hong Mo, Thu Trang and Thanh Son.