Vietnam Fashion Week will showcase the Fall-Winter 2013 collection at the Daewoo Hotel in Hanoi from April 18-20.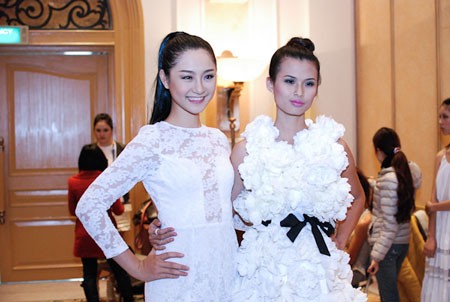 (Photo: SGGP)
Well-known designers will be participating at the event, such as Hong Vuong, Van Hien Van Khoa, Bich Ha, Ngoc Han, Ha Dang, Thanh Thuy, Hoang Thuy Linh, Trong Nguyen, Vu Viet Ha, Ha Duy, Cong Khanh, Minh Minh, Cuong Thinh, Minh Hanh, Chu La (Spain), Francoise Hoffmann (France) and fashion brand Charming Lys.
The public will see an array of 500 of the latest fashion designs in the Fall-Winter 2013 collection.
Two famous designers from Spain and France will introduce their unique collections, especially, the collection of designer Francoise Hoffmann of France is an exquisite collection of silk and fleece.
The collection of designer Chu La from Spain is based on musical notes. The main colors of the collections are black and white with winter fabrics such as velvet, wool, cotton khaki, jean and silk taffeta.
The event will be attended by several former beauty queens such as Thuy Dung, Ngoc Han, Diem Huong, Thuy Trang, Hoang Anh, Hoang Yen supermodel, Lam Thu Hang, Nguyen Thi Loan, Huyen Trang, Kha My Van, Thien Trang, Thuy Duong, Hong Que, and Phuoc Hanh.