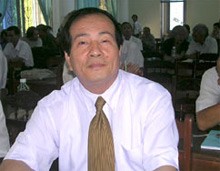 Poet Huu Thinh
The third National Young Writers Conference, opening on May 12, 2006 in Hoi An town, Quang Nam Province, is attended by 150 writers.
According to poet Nguyen Huu Thinh, chairman of Viet Nam Writers Association, the conference is considered a playing field or a friendly meeting of writers. It is an opportunity to discover and train the next generation, as well as a chance for young writers to establish their own writing orientation and realize their individual responsibilities to the country's literature
.
Regarding the country's contemporary literature, Mr. Huu Thinh said that there were successful literature works written about history, the two resistance wars and the renovation period.
The young writers who are living in the new period have created a new image for Vietnamese literature. We have a new generation of young writers with full of vim and rigor. They are very confident and their strong point is in writing short stories.
There have been different opinions about young writers' works recently but Mr. Huu Thinh thought that writers are also like businesspeople. They have to preserve their capital, which is their experience in life.
Their strong point is knowledge from reading materials but it is secondhand knowledge. We really need writers with firsthand knowledge, who have been witnesses or insiders, and their works are firmly based on their real life experience.
As far the existence of differing opinions about the works of one writer or another, Mr. Huu Thinh said that there was no "golden rules" to qualify a literature work.