Thousands of locals and international tourists occupied the Hoi An Festival Square nearby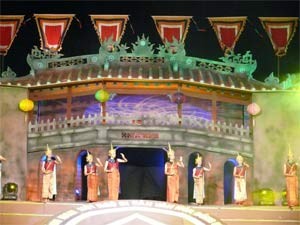 Cambodia artists with Apsara dances at opening ceremony. Pho to: Trong Khuong
the Hoai River on the sparkling night of June 27 to officially open the Quang Nam – Heritage Journey 2007, the third of its kind but the beginner for the Indochina Heritage Road festival.
Artistic troupes from Siem Riep, Luang Phrabang, Hoi An, and My Son gathered in the ancient town of Hoi An not only to perform cultural displays of daily life but also to join a forum to improve the region's tourism industry.
Talking with a Saigon Guide reporter on the sidelines of the ceremony, Mr. Khamphouy Phommavong, Director of the Luang Phrabang Provincial Tourism Department, said, "I really appreciate the invitation as well as the preparations of the Quang Nam province, Quang Nam Tourism Department and Hoi An authorities. They have given their best efforts for the success of the program. We feel at home although this is our first time to Viet Nam".
Lasting for five days until June 30, the festival is a chance to introduce to both local and international tourists such highlights as the arts of folk acting and gastronomy, as well as festivals of typical village occupations and folk games of people not only from the central city of Quang Nam but also nationwide.
On June 28 in Hoi An, art programs were held including "Folk Dances of Laos and Viet Nam" which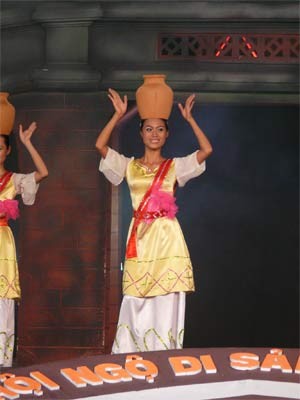 Cham dances
took place at 62 Bach Dang; a folk music instrument performance of Viet Nam and Laos at 78 Le Loi; and a culinary festival themed "Indochina Tastes" at Nguyen Phuc Chu Street.
At the Japanese Bridge, the night market of Luang Phrabang opened. Along Nguyen Thai Hoc Street, Chau Thuong Van, and Tran Phu, a traditional music program and exchange between Viet Nam, Laos and Cambodia took place on June 28 to 30.