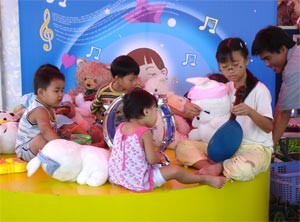 Hundreds of dolls and teddies are ready for kids on the International Children's Day (Photo:VH)

Over 100 dolls and teddies from learners of the Viet Nam – American Training Center were handed over to "Doll's House" program, hosted by Sai Gon Giai Phong Newspaper, on May 5, 2006.
On behalf of the school, Mr. Tran Duc Cong highly appreciated the initiative by Sai Gon Giai Phong in holding a meaningful celebration for unlucky children on the International Children's Day.
He promised to invite learners' parents to join the auction of puppets to assist more poor children.
The program titled "Doll's House" was created for poor children on the International Children's Day, June 1, 2006.
The same day saw the contribution of 50 puppets from SGGP's readers.
The Equatorial Hotel, on the same day, announced that it will assist the program by organizing a press conference on May, 20 as well as a dolls exhibition from May 20 to May 22 in the hotel's main hall
The Sai Gon Tobacco Company has sent a donation of VND10 million to the program.
The Ho Chi Minh City Children's House (member of the organizing board) has officially launched the doll making competition for those who are interested in puppets and rag dolls.
The deadline for submitting the homemade toys will be June 20, 2006. The on-the-spot competition of making dolls will be held on May 28, 2006.
The doll masquerade festival for preschool age children will be organized on June 1. The deadline for the applications of the festival will be May 26, 2006.