There are quite a few art galleries in Ho Chi Minh City. For just VND 400,000 to 1 million, you can become a proud owner of a painting a famous artist, such as Leonardo da Vinci, Van Gogh… Of course, they are just imitations.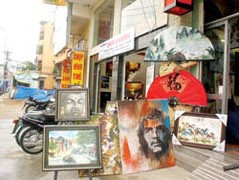 Replication galleries on Nam Ky Khoi Nghia Street
Fake paintings of the classical repertoire are primarily sold to travelers and overseas Vietnamese. They are also exported to foreign galleries. Most galleries were located in Nam Ky Khoi Nghia, Bui Vien, Pham Ngu Lao Streets or in the city.

Overseas Vietnamese and travelers often buy paintings in Nam Ky Khoi Nghia Street. And foreign visitors prefer replication galleries on Pham Ngu Lao. They can choose from a wide range of painters at low prices.

Favorite copies are "La Joconde" by Leornado da Vinci, "Strange Woman" by Ivan Kramskoy, "The Kiss" by Gustav Klimt… and imitations of other well-known painters like Lempicka, Hopper, Botero, Nguyen Sang, Dao Hai Phong…

Imitation works of small sizes (30x40 centimeters) cost VND 350,000 to 400,000 each. Bigger sizes of 80, 90 square centimeters or 1 square meter cost VND 800,000 to 1 million. It depends on the genre of painting, such as abstraction, classical, scenery or still-life.

However, buyers should be careful of Chinese imports which are mainly painted by machines. These copies look dull and they do not reflect the painters' spirits.
Most copy galleries receive orders from customers who bring their own samples along.

There are many kinds of imitation painting: oil painting, water color painting, and gemstone painting (the paintings are carved from different kinds of stone), laminage painting.

Stone paintings usually have large size, show traditional themes with dragon, phoenix, apricot, orchid, daisy, ivory bamboo and their prices are rather high.