Japan's YKK Collection will hold a fashion show at the Equatorial Hotel tomorrow, its general manager, Takashi Maeda, has announced.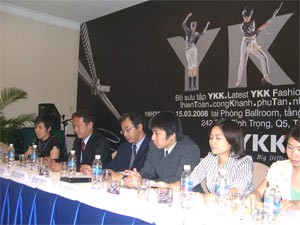 YKK-VN's Board of directors answer some questions of reporters at the press (Photo: Truong Son)
Speaking to the media yesterday, Mr. Maeda said five Vietnamese designers, Thien Toan, Phu Tan, Cong Khanh, Nhat Huy, and Truong Anh Vu, would show off their collections at the show.  
With the designers using some accessories made by YKK, especially zippers, he expected the show to come as a breath of fresh air for Viet Nam's fashion industry.  
Designer Thien Toan said his collection would combine a range of clothes, including long dresses, jackets, and waistcoats, made of modern materials like linen, chiffon, khaki, and tricot-mesh. 
Cong Khanh said: "My fans will be surprised by my new collection inspired by space suits. I have used a variety of YKK zippers in my clothes " 
His "Fire" will feature the use of contrasting light and dark colors. 
Nhat Huy's collection is inspired by sportswear and sci-fi movies, and made of khaki, silk, and stretch fabric in five main colors -- black, white, brown, cream, and red. 
Truong Anh Vu has stuck to the mundane, using silk and cotton with YKK zippers to create a fashionable but elegant collection. 
The show will see 30 models from Ho Chi Minh City and Ha Noi. The Hai Huynh Group and HD Studio will be in charge of hair styling and make up. 
YKK, which has 70 branches worldwide, makes fastening products as well as architectural products. It is the main supplier for some major companies like NIKE and ADIDAS   
While it is mostly involved with fastening products such as zippers, in Viet Nam, it recently supplied windows for the new terminal at HCMC's Tan Son Nhat Airport. 
The idea of using YKK zippers as special accessories and showcasing a collection of such clothes came to the company in 2006 and it held the first show last year in co-operation with Zen Plaza.