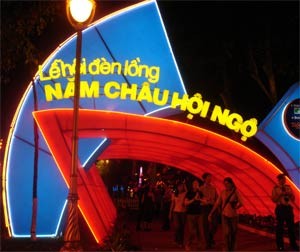 Lantern Festival            (Photo: Van Hanh)
Saigonese and foreigners shared a warm atmosphere at the Lantern Festival in the center city.
The decorative multi-coloured Lantern Festival in celebration of "Tet" holiday opened at the April 30 Park on January 19, 2006.
All lanterns displayed in the event were well selected from over 100 artworks in the Tiger Lantern Design Competition hosted by The Ho Chi Minh City Fine Art Association.
Besides, a total of six big lanterns which are miniatures of six place-names and wonders of the world, including The Great Wall of China, The Petronas Twin Towers of Malaysia, The Eiffel Tower of France, The Opera House of Australia, The Golden Gate Bridge of The United States and The Ben Thanh Market of Viet Nam, were presented at this festival.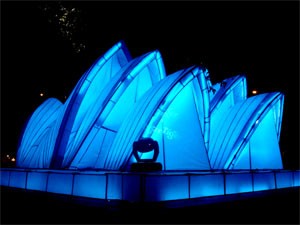 A lantern acts in miniature The Opera House (Australia)            (Photo:Van Hanh)
A newly-open spring festival next to the said park also attracted thousands of people. In this place, many outdoor games were organized to celebrate the coming year, among which are cooking traditional cakes locally known as "banh chung, banh tet", making calligraphic paintings, designing calendar covers.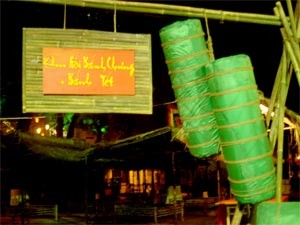 Spring Festival               (Photo:Van Hanh)
The two festivals will last till January 22, 2006.