On May 26, 2006, sculptor Nguyen Van Yen passed away. One of the first lecturers of Sculpture in Gia Dinh, Thu Dau Mot School and Bien Hoa School of Fine Arts, he devoted almost all his life to the teaching of Sculpture and the development of Plastic Arts in Viet Nam.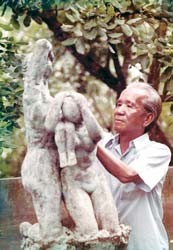 Nguyen Van Yen and his work 'Calamity'
Nguyen Van Yen was admitted to course 10 of  the Indochina College of Fine Arts (42 Yet Kieu, Ha Noi ) in 1934. He was not complacent about his graduation from the most prestigious shool of Fine Arts in Indochina at that time, whose first principal was French painter Victor Tardieu.
With youthful aspirations, passion and perseverant pursuit of Sculpture, he was the first and the only Vietnamese that won the scholarship for a refresher course at Carrara Academy of Fine Arts (Italy). In  Roma, Florence, ect, the craddles of historical and architechtural vestige, of European works of art and Scupture, of statues and embossment, of  artistic works by celebrated Renaissance geniuses like Michelangelo, Leonardo da Vinci, Antonio Lombardo, Girolamo Campagna, Raphael…, he had the opportunity to study a great deal from his supervisor - sculptor Evariste Jorchere (First-Prize Winner of Roma Sculpture Competition), from other professors and his classmates.
After returning home, he was deeply engaged in creative activities. Many of his sculpture works were displayed in Italy, France, Indonesia…The embossed portraits of renowned doctors Calmette and Yersin he created in 1963 are now still kept in Pediatrics Hospital 2 (which was Grall Hospital then). The statue 'Selection' (the Rice-siever) was put at the staircase in Saigon National Library.
In memory of Nguyen Van Yen, painter Trang Phuong, Department of Ideology and Culture in HCM City's Committee, a former student of his, has written in the book of condolences at his funeral the below touching lines, "Dear my beloved teacher, I was a young student of yours 50 years ago. It is because of your teaching that I can pursue my artistic career up to now. I am grateful to you for my career...".