Miss Czech Republic - Tatana Kucharova took the Miss World crown in Poland's capital Warsaw. Kucharova is the third Eastern European to win the Miss World crown. The first, Poland's Aneta Beata Kreglicka, was one of three moderators at the Palace of Culture.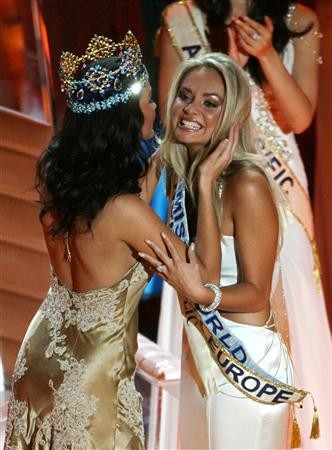 Tatana Kucharova of Czech Republic is congratulated by Miss World 2005 Unnur Birna Vilhjalmsdottir (L) of Iceland after winning Miss World 2006 at Palace of Culture in Warsaw September 30, 2006
Tatana Kucharova, a blue-eyed blonde wearing a tight-fitting white gown, fought back tears as the Miss World sash was draped over her shoulder and a glittering crown placed on her head.
Kucharova blew kisses to the crowd and hugged her competitors, 103 women from five continents, but made no comments.
The two-hour pageant was held in Warsaw's Palace of Culture, a skyscraper built as a gift by Joseph Stalin's Soviet Union, spruced up with red carpets, flowers and floodlights.
Seventeen-year-old Miss Romania, Ioana Valentina Boitor, was first runner-up.
In keeping with its conversion to capitalism, Poland is aiming to cash in on Miss World, billed as television's most watched event. A think tank calculated exposure from the pageant would help draw 5 million extra tourists to the country by 2010.
Miss Australia, Sabrina Houssami, was second runner-up.
Feminists dismiss Miss World, founded in 1951, as a sexist "cattle show", yet organizers expected more than 2 billion people in 200 countries to tune in.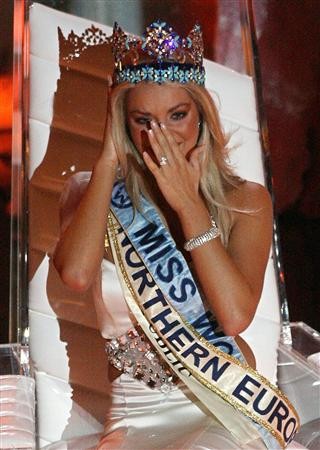 Tatana Kucharova of Czech Republic reacts after being crowned Miss World 2006 at Palace of Culture in Warsaw September 30, 2006
Miss World moved to Warsaw after three years in the southern Chinese resort Island of Hainan.
To keep the pageant's image wholesome, artists drew a sash over Warsaw's city symbol, a half naked mermaid, to conceal her breasts in promotional posters.
Source: Reuters