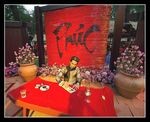 "Tet" (The Lunar New Year) photo by Hoang The Nhiem
Photographer Hoang The Nhiem, who has taken many famous photos of Viet Nam's landscapes, came to France for a painting and photo exhibition organized at the Salon D'autom Internation de luneville in Paris from September 30 to October 23.

The annual exhibition is attended by many artists, photographers and painters from different countries in the world.
Nhiem has many collections of more than 1,000 photos of Viet Nam's landscapes, the result of more than 10 years' travelling across the homeland.
He wants to offer viewers different scenes featuring Viet Nam's remote areas and local people' lives.